As these last years the sun was present at Ste. Marie at the date of the show. That was not always the case, Monday 18 was one day winter very cold and windy in Alsace! But the sun and good weather came back with minerals. It is very important for this show which especially takes place outside where hundreds of tents, merchants of all the countries and a multitude of collectors find all in a small city which became the most significant mineralogical appointment of the West of Europe and the second after the Munich show.

If you purchase samples for your collections not too expensive but with some charms it is there which you will find your " small jewels " at very accessible prices. On the other hand, if you like the perfect samples, rare or pretty, it is inside the old Theatre that you must go. There, there are the merchants most known with the florets of the show. Even for the innovations, if you can find some outside, usually the best samples are at the Theatre with sometimes prices difficult to digest. All the samples of quality, unfortunately become very expensive!

Well, after this introduction I will describe you what attracted my eye in this last edition.

Above all, because of its beauty, scarcity, and abundance (at the show), I incline myself to give the first price of the show to Carrollites from the Kamoya Sud mine, close to Kambove in R.d. of Congo. Found these last months, extracted better than in the first lucky find, made at the date of Tucson show at the beginning of the year. There was a very significant choice with perhaps more than 500 samples, obviously with all kinds of qualities. One could easily find a beautiful sample with crystals without damage around 1 cm for approximately $100. Not too badly, not? The best samples were much more expensive : crystals of approximately 3 cm on matrix, without defects or not very significant. Often there are small angles " rubbed " on the edges of the crystals, because one finds them inside Calcite and they should be released. Let us say that for a sample among the best of the set one spoke about price around $1000-$2000.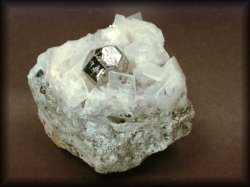 CARROLITE
Very complex crystal form. Mirror faces. Crystal size 1.5 x 1.3 cm. Specimen size 5.5 x 5 cm.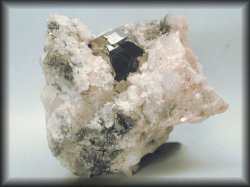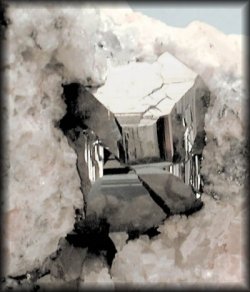 CARROLITE + détail
My favorite (together with C3C) big crystal size (2 cm.) fantastic luster, perfect and complex crystal form. The Calcite is a little bit pink due to the Cobalt salts Crystal size: 2 x 1.6 cm. Specimen size: 5.5 x 5 cm.



One must also speak about the beautiful Malachites which found on red Quartz on another layer of Kambove. They are not only very aesthetic but also very interesting from the mineralogical point of view because they are crystallized, which is not common for this mineral.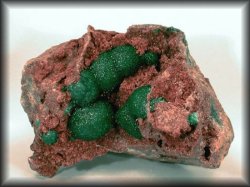 MALACHITE
Primary well crystallised Malachite was found in Kambove area over the last months. Its beauty is incredible. The deep color and specially its good contrast with the small crystallised red Quartz are the main reasons. Because the Malachite is not massive but crystallised these aesthetic specimens are also of interest to collectors. We offer four careful selected ones on this website. Kambove, R.D. CONGO (09/00)



As number two I will propose the new Chevkinites-(Ce) found in a locality of Pakistan not very precise. The species is not very aesthetic because its color black and the presence in almost all the samples of breaks, natural, but which obviously are not very pretty for eyes. In any case if one holds account, that one speaks about a species mineral which did not exist before in small crystals not formed well, those new Chevkinites-(Ce) with his large crystals of more than 5 cm, are without discussion the best ever found. One will see what this layer will give in the future.

In Morocco in this moment there is a small " madness of Vana ". Around a thousand of people (several with their families), benefitting from the political opening of the country, launched out to the search of Vanadinite in the traditional layers of Mibladen close to the mining town of Midelt, in the center of Morocco. The results of this thrashing there be visible is Ste. Marie with thousands of Vanadinite specimens. Unfortunately for reasons which escape my comprehension the price of the best parts is higher now than in the past. I think it is because of the few samples " top " which were found, and also of the high prices paid by certain amateurs who went to Morocco attracted by the news of the lucky finds, and which made inflate the prices a little too much. It is in any case very difficult to know if the prices in the future will go down or if they still will go up. That will depend in my opinion on the future extraction, if they are still much of it, the prices will certainly go down, but so on the other hand there is no more of the outputs........ Good courage children!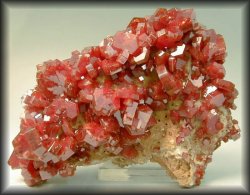 VANADINITE
A861B: Superb color and brilliance on this hyper aesthetic specimen. It comes from an old find and I have been able to obtain it because of the new status of the Vanadinites. A'hcif (or ACF) Shaft, Mibladen, Midelt, Morocco, (1994) - 9.5 x 6.5 cm.



From Morocco also, good news from the old copper mine of Kerrouchen. It is now worked by nomads to extract some from the collection samples of Azurites, often pseudomorph. in Malachite, and less often on matrix, with strange forms. There was few samples at the show. I am sure that we will see more in the future. The same thing for the news Fluorapatites from Imilchil. Although they are interesting causse of their transparency and their pretty color green-yellow, I believe that these parts are not yet " at the top ". It is said that in the area where these first samples were found, there is still much more and possibly larger and better. In any event, and as usual for Africa we never know if that can give or not.

China provided a great quantity of very beautiful specimens of traditional Scheelites, Fluorines, Hematites, Barytes, Cassiterites, Ferberites, Stibnites as of very beautiful Pyromorphite samples (although one sees less than the last year and people said that one does not find any more in China) and minerals very varied from the Daye mine. There one finds of Manganbabingtonites with a curious history : many merchants write Hubeite in its labels for this mineral, but that it is a name not published yet by the IMA and with my opinion one should not use it yet the IMA often gave surprises with " the new " species. With the Daye mine one finds also several other minerals : very beautiful Inesites, Chalcopyrites with very well defined crystals , beautiful Pyrites, Quartz Amethyst, Apophyllites and others still in analyzing. In any case Inesites and Manganbabingtonites are best, or among the best in the world, so it's attractive samples. we will see what surprise this mine will give us in the future !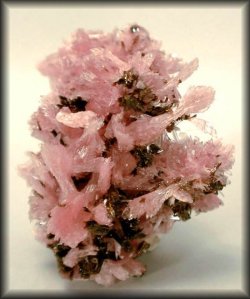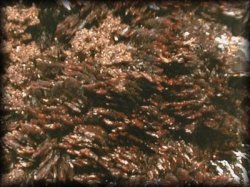 INESITE + MANGANBABINGTONITE et détail MANGABABINGTONITE
4.5 x 3 cm



From Roumania not great news : big geode, some from Herja with beautiful Stibnites and black Calcites (coloured by Boulangerite) and others from Cavnic with much of Sphalerite-Chalcopyrite epitaxial but not many beautiful samples. It is not the best year for Romania, but the mines still work, I am sure that in the future we will still see superb samples from this country.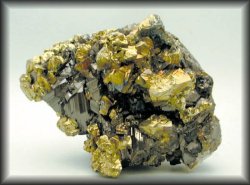 CHALCOPYRITE ET SPHALERITE
Floater, complete, good luster and color. 6.5 x 5 cm.



From America, the only striking thing seen at Ste. Marie are the new silvers from the Uchuchuaqua mine - Peru, crystals " Kongsberg type" , twisted, of an extraordinary quality with some time Rhodochrosite matrix ! Unfortunately we did not see any much because the majority of the sales were made "in hiding-places".

From United States also arrived some extraordinary Bixbyites in very large crystals (around two cm), very perfect, and very brilliances, not very visible at the show, the providers preferred not expose them too much.

From classic localities, from Panasqueira mine - Portugal (the only large Wolfram mine in production in Europe), the mineralogical production is currently very low, and in more it almost does not give the mineral which made its fame : Fluorapatite. On the other hand, some pretty Ferberites and some interesting Sulphide associations with Quartz and Siderite still come out.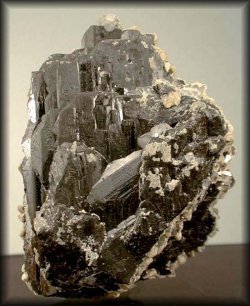 FERBRERITE
N9M: Ferberite, Fluorapatite and Siderite. 6.5 x 8 cm. (1999) 3rd level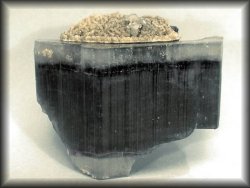 N82F: Well, this one is complicated to describe. In the photo as you can see it looks great. And it is great! But be warned that if you like perfect euhedral crystals this is not your specimen. It was a huge crystal but during its growth it was broken and then later recrystallized. So it is a natural break, but because the broken part was at the bottom of the crystal the appearance is distorted by this natural damage. So you have been warned! The good news is its intense color and the wonderful deepest phantom at the centre of the Fluorapatite crystal. At the top you have some minor Siderite and a crystal of Ferberite that is not that visible on the photo. Panasqueira mine, 3rd level (2000) 6.5 x 5.5 cm.



Well, it was my personal opinion on the news from Ste Marie this year. There must be point of view as much than visitors. If I made lapses of memory, excuse me, and if I announced something of not very great value, excuse me too. "Si non e vero e ben trovatto" say the old ones, me I am of their opinion.

If you seek specimens for your collection, visit the site of J. Fabre, that is worth the visit ! ! ! !